Zaliv shipyard executes repair of drilling rig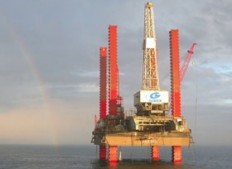 Shipyard Zaliv has accepted for repair of cantilever jack-up floating drilling rig "Amazon" (length 50 m, width 37 m, depth 5,8 m, shipowner JSC "Gazflot", Russia).
According to achieved agreements, the works on preparation after towing and preparing of platforms for drilling will be done on the unit. Particularly, among the others corresponding repair-preparative works, the testing of crane equipment and safety means will be done as well as reinforcement for helicopter platform.
It is planned that the whole scope of works will take approximately two weeks. It worth special notice that in execution of this order the main production workshops of the yard will be involved without engaging subcontractors.
At completion of repair the drilling rig will be used for exploration of Azov sea shelf.