Zaliv has delivered next offshore vessel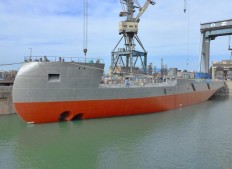 On May 31, 2013 at Shipyard Zaliv the launching from the dock of Offshore construction and well intervention vessel "Polar Onyx" (project SX121, length — 130,0, beam — 25.0 m, depth — 10,0 m) built by the order from Norwegian company Ulstein Hull AS.
Totally, during the six years of cooperation of Zaliv and Ulstein Hull AS fourteen vessels has been built for work in oil-and-gas industry.
At the moment, the vessel launched from the dock is moored alongside the outfitting berth of the yard and therefrom it will be towed to Norway to the place of final completion.
At the present moment Zaliv conducts the active negotiations for elaboration of new contracts that will not only continue the cooperation of two companies but will also secure the work for the yard employees.