The launching of the next offshore vessel has taken place at Zaliv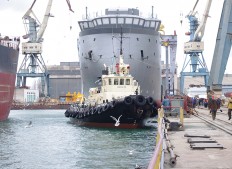 A solemn launching of the next shipbuilding order has taken place at Zaliv shipyard on March, 19.
The platform supply vessel Blue Protector ( project PX121, LOA -83, 40 m, beam – 18 m, Moulded depth – 8 m., launching weight of the Hull is 1 818 t.) became the thirteen in succession from the series of offshore vessels built over the last six years for Norwegian company Ulstein Hull AS.
In spite of complicated weather conditions such as strong wind, vessel's 'bride' and Zaliv's beauty Lily Kovsharova has executed properly her honorable mission: a bottle of champagne has been broken on the first try.
The launched vessel is alongside the building berth of Zaliv at the moment and after arrival of tug-boat from the Customer it will leave to Norway, to the place of final outfitting.