The launching from the dock of two Hulls took place at Zaliv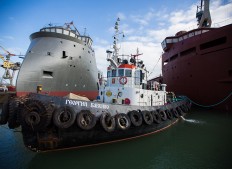 On January 24, 2013 at Shipyard Zaliv the solemn simultaneous launching from the dock of two shipbuilding orders took place that had been built in parallel in the dry dock from the autumn last year.
Platform Supply Vessel "Blue Guardian" (project PX121, length — 83.40, beam — 18.0 m, depth — 8,0 m. Launching weight of the Hull constitutes 1 832 tons) is the twelfth in series of offshore vessels built during last six years for Norwegian company Ulstein Hull AS. Representative of the Customer, Mr. Jarle Asgeir Aasemyr in his speech to the workers of Zaliv noted that his company is satisfied with the speed and quality of Zaliv's construction of the vessels.
The next vessel released from the dock this day was the platform supply vessel (project PSV3300, length — 80.10 m, beam — 16,2 m, depth — 7,5 m. Deadweight — 3 310 tons). It is the first order of offshore vessels for the Dutch company Damen Shipyards Bergum for which in different years 14 vessels of various purposes had been built.
The solemn ceremony of Zaliv has been shared not only by the relatives of the workers but also top-level officials. The participant of the ceremony was the Chairman of Council of Ministers of Autonomous Republic of Crimea Mr. Anatoly Mogilev who appreciated in value the production capacities of the yard and the quality labour of its employees.