Zaliv actively works over projects of Damen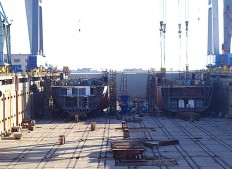 Construction of two offshore vessels led at Zaliv by the order of Dutch company, Damen Shipyards Bergum is in the zone of close attention since such project is absolutely and principally new for our enterprise.
By the words of production director, Mr. Oleg Bezusiak, at the present moment works over these projects are led by Zaliv in parallel.
On October 30, first block of the Hull YNR. 9456 (cylindrical part of the hull) weighting approximately 416 tons was laid down in the dock. At the moment the degree of completion of this Hull constitutes more than 60%, already five blocks have been installed into the Hull with the total weight of 750 tons. Into the engine room block the loading of required equipment already took place (pumps, diesel-generators etc.).
Regarding Hull 9457 its readiness constitutes approximately 15%, the steel is cut completely for the strong hull and for superstructure. In the assembly-welding production of Zaliv the intensive work is in progress for assembly of sections of the strong hull. Laying of the hull to the dock is scheduled for January next year. Assembly of the Hull will be led equally to the Hull 456 out of four mega-blocks.
It worth separate notice that according to contractual agreements Zaliv has undertaken the responsibilities for execution of large scope of works on outfitting of these Hulls. Particularly, the installation of almost all the equipment and machinery (installation of propeller-rudder columns, pumps, diesel-generators, towing winches etc.), pulling of cables, insulation and sheathing of rooms.