In the graving dock the next vessel for Ulstein has been laid up.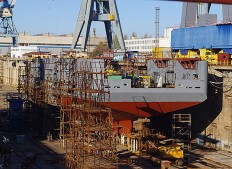 By the words of production director, Mr. Oleg Bezusiak, work of Zaliv over the Hull YNO. 01298 for Ulstein (PSV) has come to the stage of assembly of the hull.
Laying up of the Hull took place in the end of October when first mega-block weighting approximately 145 tons has been loaded into the graving dock. At present moment already four blocks have been loaded onto the Hull with the total weight of approximately 1033 tons.
Such velocity gives the possibility to say that works are in progress without breaks in delivery and the complete assembly of the hull will be finished within November 15. The delivery of the Hull is planned for middle of January 2013.