Zaliv has delivered the next vessel for oil-gas sector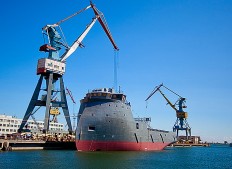 JSC Shipyard Zaliv completed works over next shipbuilding order for Norwegian holding Ulstein Hull AS. The offshore platforms supply vessel project PX 121 with the total launching weight of 1900 tons became the tenth built by Zaliv by order of this company.
Kerch shipbuilders commenced works over this vessel in February current year, and the vessel laying in the dry dock occurred on June 18 and on August 30 the vessel was solemnly launched from the dock. The hull delivery occurred with strict keeping of contractual terms and the quality of works execution have been evaluated by the company inspectors to be high.
At the present moment Zaliv continues construction over three more shipbuilding projects also ordered by Ulstein holding. It is scheduled that until the end of 2011 works over one of them shall be completed.