Zaliv is under preparation for delivery of Hull 505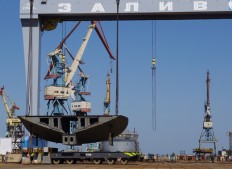 Within last six years Zaliv is confidently keeps the mark of qualitative and highly responsible executor of its orders securing completion of construction of new projects in advance of contractual terms. The reputation of reliable partner gives us the assistance in signing of new contracts and therefore workers of the yard do their best to avoid critical situations with delivery of newbuildings.
At the present moment production program of Zaliv consists of six shipbuilding orders — all are the vessels aimed for support of offshore drilling rigs, four of them are built by the order from Ulstein company and two for Damen Shipyards Bergum. Within the shortest time the cutting of steel for new vessel with the weight of 4000 tons will be started at Zaliv.
Indisputably, the most "burning" order for now is the Hull YNo. 297 — platform supply vessel (project PX121) that should be launched from the dock until the end of August.
At the moment approximately 400 workers are working over this project daily. Several workshops of the yard are involved in works execution and starting from July 17 companies Zaliv-Anticor and Mostec commenced painting of the hull.
After evaluation of works progress on the hull, Production Director Mr. Alexander Larin noted that despite the fact that the readiness grade is approximately 90% a lot of work is still ahead including important part of timely completion of works on installation and testing of pipes.
Also, it worth additional mentioning that this very hull will be the five hundred and fifth in order of construction during the history of Zaliv and workers of the yard are confident that it will be possible to secure the delivery in time and with the proper quality.