Zaliv has delivered the order of Bergen Group BMV AS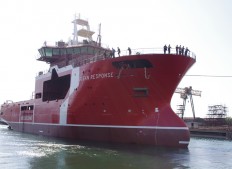 Shipyard Zaliv has completed the construction of the vessel intended for drilling platforms service (field support vessel) (total launching weight is approximately 1550 tons, deadweight is 2400 tons).
It worth reminding that contract for construction of this vessel between Zaliv shipyard and Bergen Group BMV AS (Norway) was signed last May on the largest international shipbuilding exhibition Nor-Shipping 2011.
According to information from chief builder of the yard, Mr. Vasiliy Kas'janenko, due to tight time-frames for execution of this order Zaliv had to provide field work on every step of construction of the vessel.
Zaliv commenced steel cutting for this order in August 2011 and the docking period of the hull assembly started in January this year.
It should be noted that Zaliv on this order performed not only the hull works but also considerable scope of works on outfitting. Zaliv has undertaken the responsibilities on manufacturing and mounting of pipelines systems on the vessel, installation of electric-fitter items, mounting of gas-exhaust system, installation of anchor-mooring equipment, mounting of propeller-rudder set.
Besides, Zaliv has executed large scope of works on installation of equipment of Buyer's supplies (four diesel-generators, compressors of AC systems, incinerator, steering gears etc.)
On June 16, 2012 the signing of delivery-acceptance documents took place and in few days the towing of the vessel "Ocean Response" to the customer began.