Zaliv has built next offshore vessel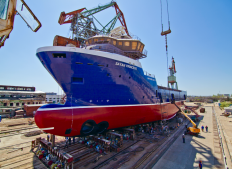 JSC Shipyard Zaliv has completed works on construction of offshore platform supply vessel (total launching weight is 1550 tons, deadweight 4000 tons).
By the words of the General Director Mr. Nikolay Yermak, despite the fact that Zaliv already works on the offshore shipbuilding market this project was not an usual one.

Order, initially placed on one of yards in Sevastopol, for construction of the vessel for offshore supply of drilling platforms (project 832 CD from design bureau of famous shipbuilding group Havyard International AS) owing to various reasons have not been completed. Resulting from this ordering company applied to Zaliv with offer to undertake the realization of this project. As a result in the July last year all the steel structures were delivered from Sevastopol to Kerch and in September the laying of first bottom units took place on the slipway.
For the period of more than six months Zaliv should have learnt principally new project and the most part of works on forming of the hull fallen to the winter period.
On April 26, 2012 shipyard Zaliv and the customer company signed the delivery-acceptance documents and on May 3, the new vessel "Sayan Princess" was towed to Norway.