Zaliv actively working over all of its projects.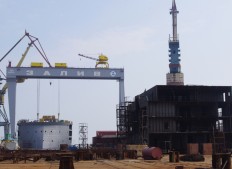 At the present moment Zaliv Shipyard successfully implement some shipbuilding projects providing forming of the hulls in the dry dock and on building berth.
Parallel work over two hulls supposed for servicing of drilling platforms takes place in the dry dock.
The order building number 0295 placed by Ulstein Hull As (Norway) is completely formed. At the pre-sent moment the assembly-welding works are still in progress on the last units of aft end and aft rooms are prepared for presenting of construction prior to painting.
The scope of works on painting of compartments coming from midship to foreship are almost complete.
The hull launching from the dock is scheduled to the first decade of April.
Order from Norwegian company Argali Holdings Ltd. (project 832 CD of designing bureau of ship-building group Havyard International AS) for construction of the offshore vessel is on its final stage.
By the words of chief of production department Mr.. Valentin Pikhterev at the present moment the exe-cution of works over painting of the hull both outside and inside of compartments of the vessel.
The launching of the hull from building berth and its delivery to the customer shall be done within April 20, 2012.
The works over the order from Bergen BMV Group (vessel designed for servicing of oil and gas plat-forms) is on the active stage of progress by Zaliv.
The last unit of the strong hull is installed into the hull. The assembly and welding works over installa-tion of the aftship block and in preparation for painting are being held.
All the required equipment is already installed in the engine room and within the proximate time the mounting of rudder-steering set will start.