Zaliv shipyard has signed two new contracts.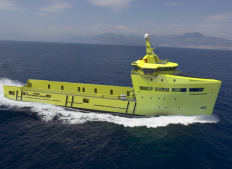 Kerch shipyard Zaliv has renewed its cooperation with company Damen Shipyards Bergum (the Netherlands). By the order of this company the yard will build two highly outfitted hulls of platform supply vessels of project PSV 3300.
As it was told by Zaliv's marketing director Mr. Yuriy Dovgiy, Damen Shipyards Bergum is long standing and well-proved partner of the yard for whom Zaliv had built a few series of multipurpose vessels, however, construction of offshore vessels will be the first common experience.
According to the agreed schedule, the works on these hulls will be started by Zaliv within April this year. Delivery of the first hull is scheduled in January, 2013, the second – in April, 2013.
It's worth to note as well, that Zaliv will carry out not only hull works, but also extended scope of works related to outfitting, in particular, mounting of insulation, installation of cable trays, mounting of main vessels' equipment like diesel-generators, pumps, steering gear, etc.