The vessel for Bergen company was laid up in the dry dock of the shipyard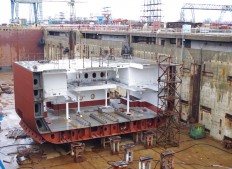 Zaliv Shipyard's work over the order from Bergen (vessel purposed for servicing of offshore oil-gas platforms) has come to the stage of forming of the hull.
In the beginning of January the first solid block consisting of bottom unit and tweendeck units was laid up in the dry dock. The total weigh of the block comprises 150 tons.
By the words of Production Department Manager Mr. Valentin Pikhterev within the nearest time the next block weighting 110 tons will be installed to the hull.
At the same time in the assembly-welding production the works over assembly of three more blocks wherein gross volume of works over installation of pipelines, foundations and outfitting was executed and afterwards the blocks will also be installed onboard the hull.
It is scheduled that within the period of January the technical readiness will achieve 65%.