Zaliv delivered the 500th vessel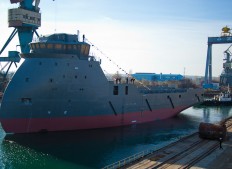 November 30 2011 entered the history of Kerch shipbuilding yard Zaliv by special anniversary date. This day Kerch shipbuilders delivered their five hundreds vessels for almost 75 years history. This anniversary vessel was the oil platforms supply vessel the customer of which is the constant partner of Zaliv Norwegian company Ulstein.
For construction of the vessel named "BLUE WARRIOR" (project PX 121) length 83,4 m, beam 18 m, total weight of 1780 shipyard workers consumed approximately six months.
It worth additional note that peculiarities of the Hull and propulsion unit have been created taking into consideration the future service in the conditions of Northern Sea and Northern Atlantics.
By the words of chief builder of Zaliv Mr. Vasiliy Kas'janenko by the qualitative works execution Zaliv reserves more and more credibility from the Customer that is confirmed by receipt of additional scope of works on hull outfitting. Particularly, Zaliv completely executed scope of works on fabrication and installation of pipelines systems, approximately 100 tons required for this hull. Installed onboard anchor-mooring winch, hydrostations and system of air-conditioning.
Works over the orders from Ulstein proceed and at the moment in the graving dock the assembly of the Inspection Maintenance and Repair (IMR) Vessel takes place.