Shipyard Zaliv has signed new Contracts with Dutch company Bodewes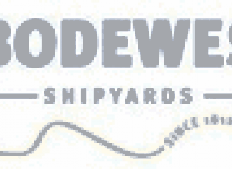 JSC Shipyard Zaliv and Dutch shipbuilding company Bodewes Shipyard has signed two new contracts.The subject of the contracts are two container traders having the length of 91,07 m and beam of 15,2 m with deadweight of 4400 dwt each.
Building of vessels shall be executed on the slipway complex of Zaliv..
In the nearest time the delivery of steel, materials and other fittings required for construction of these two hulls to Zaliv shall begin.
The steel cutting is scheduled to the end of first quarter 2011.
Delivery of the first hull is planned to the end of December 2011 and works on construction of the second hull are planned to be completed in March-April 2012.