Higher education at shipyard's cost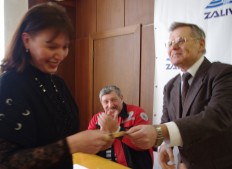 Personnel policy of shipyard Zaliv among the rest is directed to increasing the qualification level of its specialists, and for this purpose the program of educating the workers in higher education establishments at the costs of the shipyard is applied.
Not long time ago none workers of Zaliv received the diplomas of Feodosiya polytechnic institute of the national shipbuilding university that confirmed their rank of specialist in the sphere of shipbuilding.
By the words of general Director of JSC Shipyard Zaliv Nikolay Yermak development of shipbuilding increases the need in qualification improvement and at the present moment numerous operations are executed with application of unique computer technologies and Zaliv aiming to build the vessels on the level of international standard sharply require the highly qualified shipbuilders.
In the nearest coming time seven people more shall receive the diplomas of higher technical education.