Works on the hull Yno. 291 are finished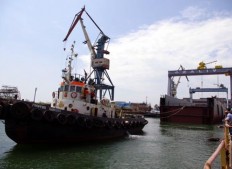 At Zaliv, on May 26, the taking out from the dock of one of the orders, constructed at the present moment by the order of Norwegian company Ulstein took place.
According to the Contract signed in December last year shipyard undertaken the obligations to provide the delivery of hulls within the extremely short timeframes.
Well coordinated work demonstrated by Zaliv's team on every production area secured the possibility to fulfil the necessary scope of works strictly in time.
On January 31 in the steel treatment workshop the steel cutting started and on May 26 the semi-hull bnr. 291 was launched from the dock.
During incomplete four months by the efforts of Kerch shipbuilders 15 units of the total weight of 1100 tons were manufactured and assembled in the dock and its partial outfitting and painting was provided. The customer representatives evaluated the level of executed works as high.