---
There is an active work at the Hulls ordered by Ulstein Company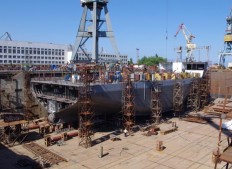 Keel-laying in the dry dock of the first three units of the vessel, designed for seismographic exploration of the shelf (Yard No 292), took place on May, 10th. Three blocks out of ten needed had been integrated in the Hull by the end of May and by the middle of June all works on forming of the Hull have been already finished.
There are works on installation of wheel-propeller system. The start of painting works is planned for June, 20th. Zaliv plans to deliver this Hull by the end of July.
Speaking about other projects, the Production Manager Valentin Pihterev said that unit assembly for the Hull Yno293 is now in progress, technical readiness of the Order is about 40%. Steel cutting for the Hull Yno 294 is also in progress, in the workshops started assembly of subunits and units.
Добавлено: 22-06-2011 (отредактировано: 23-11-2011 в 13:56)
| | | | |
| --- | --- | --- | --- |
| © 2007 JSC Zaliv Shipyard. All rights reserved. | | | |