Zaliv started works over the order of company Bergen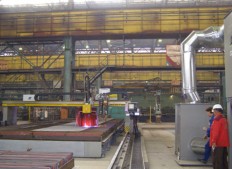 The shipbuilding contract signed in the end of May between Zaliv shipyard and Norwegian company Bergen is already under progress. According to the reached agreements Zaliv shall build two vessels purposed for servicing of offshore oil and gas rigs. Steel cutting for one of these vessels already have started. At the present moment steel treatment workshop of Zaliv provided cutting of steel for first four units of this hull. Steel is passed to assembly and welding production for treatment and setting.
It is scheduled that until the end of August the design and technological documentation will be prepared for starting the production of subsequent six units.