Zaliv prepares two vessels for delivery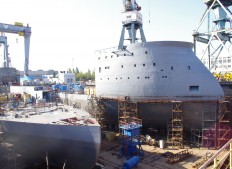 At the present moment in Zaliv's dry dock the parallel work is proceeding over construction of two orders from Ulstein.
Hull of the vessel aimed for shelf seismic research (YNo. 293) is completely assembled and the paintworks shall start in the nearest time.
Simultaneously, the active work on construction of the vessel purposed for servicing of drilling rigs (YNo. 294). Works on hull shaping came to the final stage and shortly the foreship and superstructure block will be installed onboard.
Start of paintworks on the hull are scheduled to the mid-October. Hull launching from the dock is scheduled to the end of October.