Order from Argali Holdings is laid up on the slipway.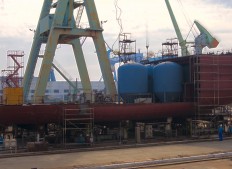 Work of workers of Kerch Shipyard Zaliv over the order from Norwegian company Argali Holdings LTD (project 832 CD of the designing group of shipbuilding group Havyard International AS) came to the stage of assembly of the strong hull.
Within the first half of September on the slipway of the yard the laying up of the first units of this vessel was executed. To the present moment five units are assembled for the hull four of them are bottom units and one is the side unit. Readiness of the order makes up approximately 20%.
The delivery of the hull of offshore service of drilling platforms from Zaliv is scheduled to December this year.