Zaliv has completed the next order of Ulstein ahead of schedule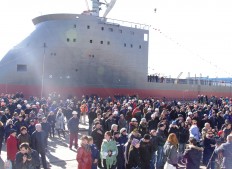 The next successfully delivered project confirms the status of the Kerch Shipyard Zaliv as the active participant of the world market of offshore shipbuilding.
The vessel "Polarcus Adira" (building number 01293) purposed for seismic shelf research became the seventh built by Zaliv within the cooperation terms with Norwegian holding Ulstein. Construction of this highly specialized vessel having the steel weight of more than two thousand tons have been completed ahead of schedule and with the high quality of works execution.
By the words of representative from Norwegian side Mr. Anders Sundgot for the four years of cooperation Zaliv have not caused any disappointment. All the vessels are delivered strictly keeping the contractual terms and the quality level is such high that for each next vessel Ulstein entrusts its partner more and more complex works over outfitting.
Solemn hull launching from the dock collected not only workers of the shipyard. First persons of Crimean autonomy decided to share its celebration including acting as Chairman of council of ministers of Autonomous Republic of Crimea Mr. P. Burlakov who highly estimated the long-time work of shipyard's personnel.
The common work of Zaliv and Ulstein proceeds and within nearest time the works over next project for offshore market shall be completed and the on-going negotiations allows to rely on fulfilment of orders port-folio.