Shipbuilders of Zaliv laid up in the dock repair maintenance and inspection vessel for Ulstein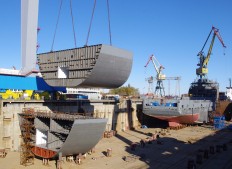 Zaliv commenced construction of the next order of Ulstein (Norway): in the graving dock of shipyard the laying up of the hull of Inspection Maintenance and repair offshore vessel took place.
On November 7 the second block was installed in the dock thus making the total weight of installed structures 400 tons. In the nearest days the solid superstructure section will be installed to the hull with the weight of 159 tons.
By words of chief builder of shipyard Mr. Vasiliy Kasjanenko it is scheduled that the active work over this order will give the possibility to take its technical readiness up to 24% and the total weight of steel structures installed in the dock will make up approximately 650 tons up to the end of November.